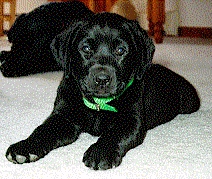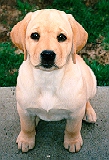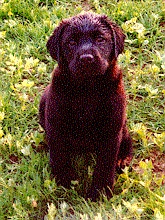 "They're all so cute...."
I am often asked why some Breeder's pups are more expensive than the ones listed in the newspaper for example. Betty Wenner of Surry Labradors has written an explanation of why and I think it is worth a read. It is called
and it is right on as far as I am concerned.
How Do I Make An INFORMED Decision??
A good place to start is your local Breed Club. They can send you a list of breeders that belong to that club. Often, (BUT NOT ALWAYS!) breed clubs have a code of ethics for their member breeders. REMEMBER that membership in a club and/or publication on a list does not guarantee you a quality, healthy puppy. You need to speak to individual breeders, meet their dogs and even speak to others who have purchased puppies from them in the past.
Things To Look For...Or To Ask About When Speaking With a Breeder
Do they do health clearances on all breeding stock?
This includes x-raying hips and elbows for dysplasia and submitting these x-rays to OFA for certification; having yearly eye exams by a Board-Certified Veterinary Opthamologist (ACVO). They should be able to show you these certifications.
Do they actively show their dogs in any area of competition?
This would include Conformation, Obedience, Hunt Tests, Agility, Tracking
Is the mother on premises?
Often the father of the litter is owned by another breeder, but you should be able to see pictures of the father and meet the mother of the pups
Their dogs will be clean and properly housed, as will the puppies
They should be willing and able to discuss the goals of their breeding program
They should be able to discuss the breed in general
They should be able to provide information for new dog owners
They should be accessible to you after the puppy goes home with you
You MUST be comfortable with the person
You must agree with their breeding objectives and philosophies
Often responsible breeders will only place puppies that will be a family companion on a limited registration and will ask that you sign a Spay/Neuter agreement
Limited Registration does NOT mean the puppy you are buying is not registerable with the American Kennel Club. Simply put, a limited registration means that any OFFSPRING produced by that dog are not registerable with the AKC. Normally, it is used when a puppy is placed and a Spay/Neuter agreement has been signed by the puppy buyer. The puppy is still able to participate in all AKC events, EXCEPT showing in the conformation ring. A limited registration can be reversed at a later time by the breeder
You should be given a blue AKC registration form when you take the puppy home
The above list should get you on the right track. Books are an invaluable tool for learning about a particular breed and/or training that new pupster. The following are among my "MUST READS".....
"The Labrador Retriever Today" by Carole Coode
"The Book of the Labrador Retriever" by Anna Katherine Nicholas
"The Art of Raising a Puppy" by The Monks of New Skete
"How to Be Your Dog's Best Friend" by The Monks of New Skete
Please think twice before buying that adorable pup at your local pet store!!! I HIGHLY recommend you visit this VERY graphic site that describes just where that pup came from. Be warned......it is NOT pretty!! PUPPY MILLS - A TRAGIC REALITY