"Haley"
Birchangreen Foxlove's Haley Am/Can CDX, JH, WC, CGC, TDI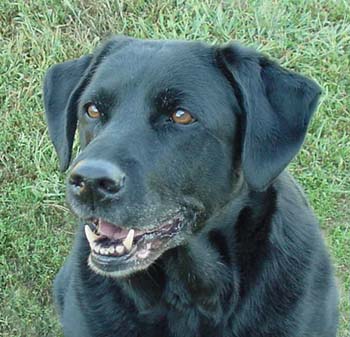 My first Labrador Retriever. I couldn't have asked for a better "First Lab". She has taught me so much about patience, trust, and the value of a good sense of humor! She possesses all of the wonderful qualities that make the Lab such a terrific companion and an enthusiastic worker. Haley is "retired" from our breeding program, but is a valued member of our family. She brings us such joy.


"Tori"
Nightwind's Notorious Flirt JH, WC, CC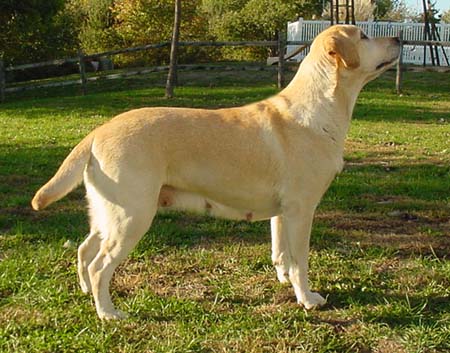 This beautiful girl is Tori. She has definitely inherited her Mom's good looks and intelligence. We are so proud of Tori. After taking a "maternity break" from training, Tori came out and ran in her first hunt test when her pups were just 7 1/2 weeks old and finished within a month's time. What a girl!! She is John's favorite waterfowling companion and my favorite bed warmer!
"Jarrett"
Can Ch. Nightwind Start Your Engines JH
(Major Pointed AKC)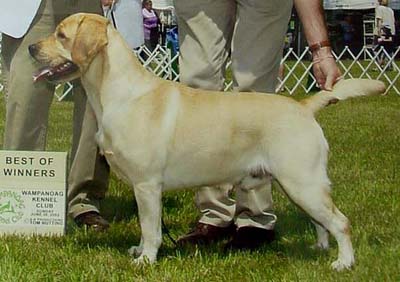 This is Jarrett. He represents the 3rd generation of our versatile Labradors. He is a special boy with a bright future! He has done really well at the Specialties so far and we are having so much fun showing him! He is growing up so nicely and his intelligence and desire to work and please are exactly what we like to see. He is also a pleasure to live with...so typical of a true Lab temperament. We are so proud of the fact that, with limited showing, Jarrett finished his Canadian Championship at 20 months. He has gone on to finish his Junior Hunter title at 21 months!! Jarrett is being shown and has points towards his Am Ch including a major. Another versatile Lab here at Nightwind. We are pretty pleased.
==============================
Our Youngsters.......
"Marley"
Can. Ch. Nightwind Stir It Up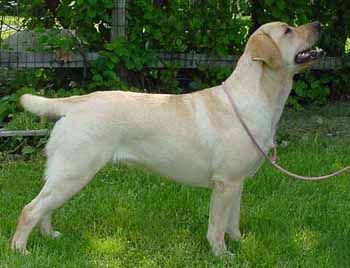 Meet Marley. She is another Tori puppy......a repeat breeding of the litter that produced our Jarrett and Lucy. What a smart puppy!! She will keep me on my toes for sure. She is 13 months old in this picture......we will update as she grows. In her ring debut at the Labrador Retriever Club, Inc.'s National Specialty....Marley made the cut in a large 6-9 mos puppy Sweeps class and went on to place 3rd in that class under Breeder-Judge Barb Holl. Marley takes Best Puppy in Breed at the WCKC show! We are so proud of her!
July 2003......At her first Canadian show, Marley goes Winner's Bitch and Best of Opposite Sex for 4 points! Go Marley!!